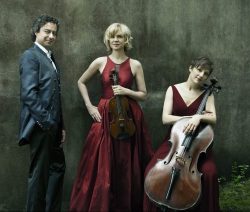 Trio Solisti has forged a reputation as "the most exciting piano trio in America" (The New Yorker), with a passionate performance style that combines exceptional virtuosity and musical insight.  Possessing a repertoire that encompasses the standard repertoire and works by contemporary composers, rave reviews follow the trio throughout its concert tours.  Noted Wall Street Journal critic Terry Teachout proclaimed that Trio Solisti is "the group that to my mind has now succeeded the Beaux Arts Trio as the outstanding chamber music ensemble of its kind."  The New York Times called it "probably the finest American [piano trio] currently on the field," and the trio was praised by The Washington Post for a "transcendent performance."
Founded in 2001, Trio Solisti – violinist Maria Bachmann, cellist Alexis Pia Gerlach, and pianist Fabio Bidini – has performed on major concert series such as the Great Performers at Lincoln Center, People's Symphony Concerts at Town Hall NY, Washington Performing Arts Society at Kennedy Center, Seattle's Meany Hall and La Jolla's Revelle Series.  In 2015, the ensemble performed a three-concert series at Weill Recital Hall at Carnegie Hall, presenting the complete piano chamber music of Johannes Brahms, with guest artists Anthony McGill (clarinet), Jesse Mills (violin), Richard O'Neill and Hsin-Yun Huang (viola), and Julie Landsman (French horn).
Tickets for this event are available now to Members.  Single ticket, online pre-sale begins on Tuesday, August 15, 2017.