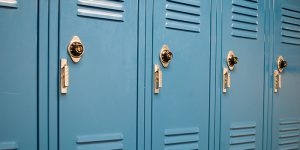 Lockers are assigned based on availability, and are located in the Ruth S. Harley University Center, Post Hall and the Performing Arts Center.
Lockers are free to Adelphi students, but a $10 cash security deposit is held for the rental period. 
Locker rentals operate on a nine-month contract for the fall/spring semesters and a 12-week contract for the summer sessions. Lockers are available for the fall and spring semesters (commencing one week before the fall semester begins) and for summer session (commencing one week before summer session I begins).
Visit the Office of Auxiliary and Event Services in Room 301 of the Ruth S. Harley University Center to fill out the Locker Agreement and receive your locker assignment and combination. Lockers will not be issued without valid student ID.
Swirbul Library offers lockers to graduate students on a first come first serve basis at no charge.  Please visit Swirbul  Room 109 for more information or to reserve a locker for the semester.