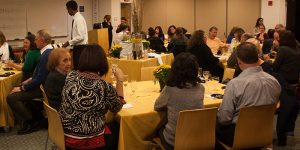 The Parents Association is an advocate and provides support for the parents of Adelphi students, improves students' Adelphi experience through parental knowledge of resources and advances the aims and programs of the University.
The association helps other parents to play a supporting role in their student's college experience, serves as a forum for exchange with other parents, provides useful information and a chance to express concerns and make suggestions about campus resources, and gives an opportunity to further the goals of Adelphi by improving communication between parents and the University.
The first meeting of the Parents Association is scheduled during Family Weekend. At this annual meeting, board officer nominations and elections happen.
The Parents Association also presents two recognition awards each year: the Parents Association Senior Award, and Parent Recognition Award.