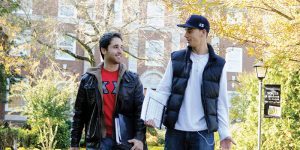 As representatives of Adelphi University, Peer Assistant Leaders (PALs) serve as a link between incoming students and the University to assist in the transition in the college experience.
The goals of the Peer Assistant Leader program include:  
Assist freshmen in learning about the academic and social aspects of life at Adelphi University.
Familiarize new students with the resources that are available to them.
Serve as role models for freshmen and make them feel more comfortable in their role as college students.
---
Want to become a PAL?
To apply, Peer Assistant Leaders must be registered, full-time students they must remain in good academic and disciplinary standing. The selection process for Peer Assistant Leaders is conducted in March and April of each year.