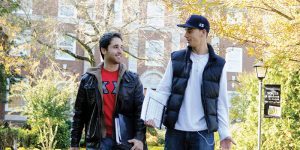 The role of a Peer Assistant Leader (PAL) is to serve as a link between incoming students and the University to assist in the transition in the college experience. The goals of the Peer Assistant Leader program include:   
Assist new students in learning about the academic and social aspects of life at Adelphi University.

Familiarize new students with the resources that are available to them.

Serve as role models for new students and make them feel more comfortable in their role as college students.
The Division of Student Affairs will select a group of mature, dedicated and supportive undergraduate students who have shown a commitment to fostering academic and social success to the University community. PALs will be assigned to a First-Year Student Orientation Experience (FOrE) section in the fall and will work with instructors to provide a meaningful introduction for new students at Adelphi. Selection as a PAL is competitive and requires knowledge of University resources, policies and procedures.
Qualifications:
Must be a currently enrolled undergraduate student, having completed two semesters.

Exhibited leadership experience and potential for growth.

Good academic standing, with a minimum grade point average of 2.5.

Good disciplinary standing.

Knowledge of University resources (both academic and social).

Demonstrated interpersonal and communication skills.

Ability to work effectively with student groups and faculty members.

Demonstrated desire to learn about the University community, programs, policies and procedures
---
To apply, Peer Assistant Leaders must be registered, full-time students for the Spring 2018 semester, and they must remain in good academic and disciplinary standing.
» Apply To Be a 2018 Peer Assistant Leader (PDF)
---
Roles and Responsibilities:
As representatives of Adelphi University, Peer Assistant Leaders (PALs) have many responsibilities. PALs are expected to have the interpersonal skills necessary for dealing with new students, both individually and in groups. They must be friendly, welcoming and articulate. While potentially being a friend and mentor to new students, PALs will also communicate and uphold University policies, and all necessary rules or guidelines. They will be expected to report any student whose conduct is deemed inappropriate and/or infringing upon the rights of others to their FOrE instructor and/or to the Coordinator of Projects and Programs, Division of Student Affairs. PALs should serve as positive role models in all they do and promote positive campus spirit.
In addition, Peer Assistant Leaders will:
Attend a meeting/training session to become familiar with the workings of the First-Year Student Orientation Experience (FOrE) course. During this session, various training discussions will be held to assist the PALs in effective and appropriate management of student situations. This session will be conducted prior to the end of the Spring 2017 semester (and before finals begin); date to be determined

Attend and assist with Matriculation Day activities.

Attend each of the fifteen (15) FOrE classes scheduled for the semester.

Make an effort to get to know new students (both in and out of the classroom); reach out as often as possible to make them feel at home.

Be a resource for new students; help them to resolve problems and/or concerns which may arise throughout the semester.

Disseminate information to the assigned FOrE class regarding upcoming campus events.

Encourage new students to participate in student activities, campus programs and cultural events (invite students to join you at something you will be attending).

Keep a log of activities and reflections on the PAL position, and submit a completed topic synopsis/log every two weeks to the Coordinator of Projects and Programs, Division of Student Affairs.

Attend the two (2) regularly scheduled PAL meetings (mid-point and end of year meetings) during the Fall 2017 semester in order to help evaluate the progress of the program.

Work with the FOrE instructor to define your role further in the class.