Find out about all the great events first-year students can attend during Welcome Weekend.
FRIDAY, August 24 (Move-In Day)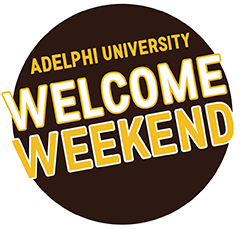 Campus Recreation Hours
9:00 a.m.–7:00 p.m. (Pool Hours: 12:00 p.m.-2:00 p.m.)
Includes fitness center, racquet courts, indoor track and tennis courts (gymnasium not in use during matriculation).
---
First-Year Student Move-In
9:00 a.m.–3:00 p.m., Resident Halls
Check in with Residential Life Staff at your assigned building. Stop by the information tent to sign up for one of the Welcome Weekend trips if you haven't done so already, or get any of your questions answered by a professional staff member.
---
Bus Trips to Local Stores
11:00 a.m.–3:00 p.m., Leaving from Post Hall
It is easy to forget last minute items or need some materials to jazz up your room. Hop on the shuttle, and head to local shopping establishments including: Marshalls, Walmart, Target, and Bed Bath and Beyond. Trips are on the hour every hour.
---
President's Reception
1:00 p.m.–2:00 p.m., Center for Recreation and Sports Gym

Families Welcome

After a long day of moving into the residence halls, first-year students and their families are invited to attend this informal reception hosted by President Christine Riordan. Come enjoy light lunch and meet members of Adelphi's leadership team, including our academic program deans.
---
Jummah Prayer
1:15 p.m., Interfaith Chapel, University Center 306
Officiated by Abdin Chande, Muslim Chaplain
Khutbah: Abraham—lessons from the father of monotheistic diversity plus the virtues of the first 10 days of the month of Dhul Hijjah (Pilgrimage).
---
Parent Orientation
2:00 p.m.–3:30 p.m., Campbell Lounge
Parents and guardians are invited to this orientation to learn about such topics as health and safety, academic life, careers and internships. We will also discuss student's transition from high school to college, and ways for parents and guardians to adjust to that new situation.
---
Student Access Orientation
2:00 p.m.–3:00 p.m., TBD

Students Only – Invite Only
The Student Access Office ensures equal access to all of Adelphi University's programs, services and facilities for students with documented needs. Through assistance, advocacy and reasonable accommodations, the office provides an accessible and supportive campus environment.
---
Scavenger Hunt
2:00 p.m.–4:00 p.m., UC Lobby
Students Welcome

Join the Peer Educators for a scavenger hunt all around different campus departments to learn your way around Adelphi. Prizes are awarded throughout the hunt!
---
Bookstore Bonanza
3:00 p.m.–5:00 p.m., University Center Lower Level, University Center Bookstore

Our Bookstore Bonanza event is all about celebrating new students and adding excitement to our student's first day on campus. During this event, you will also have personal assistance purchasing your textbooks.
---
Jets v. Giants Game
4:00 p.m. transportation, 7:30 p.m. game, MetLife Stadium
Get your tickets to see these two New York teams go head to head in this NFL Preseason game. What is most exciting about this trip is that there will be a two hour tailgate party for our first year students with bbq food, games and more! This tailgate will include local Adelphi Alumni and will be a great opportunity for all to mingle.
The schedule of the day is as follows:
4:00pm-Leave Adelphi via transportation which is provided and meeting outside of the University Center
5:30pm-7:30pm- Tailgate
7:30pm-Game Time
» Register on University Tickets
---
Shabbat Service
5:00 p.m., University Center Chapel
Officiated by Rabbi Glenn Jacob, Jewish Chaplain
Erev Shabbat services in a progressive setting.
---
Text and Win Game Show
8:00 p.m., UC Ballroom
Trivia questions of all types ranging from topics such as sports, geography, music, movies, U.S. history, U.S. presidents, math and more. All questions will be asked and answered using an app on the audience members' very own cell phones. There will be several rounds that will provide the chance for multiple winners. There is a guaranteed total of $200 in cash prizes awarded. Anybody can play and anybody can win! So get your cell phones ready to play Cell Phone Smackdown!
Saturday, August 25 (Explore NY Day)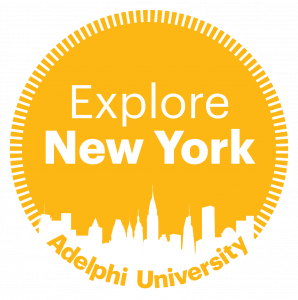 Campus Recreation Facilities
9:00 a.m.–1:00 p.m. (Pool Closed)
Access includes the Fitness Center, racquet courts, indoor track, tennis courts.
---
Off Campus Trips
Join us in exploring the wonders of New York City as part of Welcome Weekend. We are excited to visit New York City landmarks and culture with our first-year and incoming international students.
Registration is required for all trips. Transportation is provided from the University Center on the Garden City campus.
All trips have a $5 nonrefundable fee.
All trips are limited, so reserve your spot quickly. Reservations will be on a first-come, first-served basis.
Students are encouraged to bring their own refreshments on trips unless otherwise noted.
Check-in is at the University Center Plaza (or the University Center Lobby in the event of rain)
Trip options include:
CitySights NY Bus Tour
Take a guided tour of the Big Apple and see everything that makes New York City so exciting. The bus departs the University Center at 10:30 a.m. and the trip is from 12:00 noon to 4:00 p.m.
Coney Island's Luna Park
This amusement park, home to the world-famous Cyclone, includes rides, boardwalk and even more. This will be a day of fun, with an all access pass and extreme upgrade card. Bus departs the University Center at 10:30 a.m., and the trip lasts from 12:00 p.m. to 4:00 p.m.
Adelphi Visits Broadway 
Give our regards to Broadway by joining classmates in seeing School of Rock, Aladdin, Wicked, or SpongeBob. The bus departs from the University Center at 12:00 p.m., and the shows last from 2:00 p.m. to 4:30 p.m./4:45 p.m.
Mets Game 
Watch the New York Mets play the Washington Nationals at Citi Field. The bus departs the University Center at 3:00 p.m., and the game starts at 4:15 p.m.
» Register on University Tickets 
---
Upperclass Student Move-In
1:00pm-7:00pm, Resident Halls
Check in with the Residential Life Staff at your assigned building.
---
Outdoor Movie: Deadpool 2
9:00 p.m., Quad (rain location: Performing Arts Center, Concert Hall)
Bring a blanket, meet some friends and enjoy some free popcorn and cotton candy from the Student Activities Board!
Sunday, August 26 (Matriculation and Spirit Day)
Robert B. Willumstad School of Business Orientation
10:00 a.m.–11:00 a.m., Performing Arts Center, Concert Hall
First year business students only.
---
Matriculation Ceremony
11:15 a.m.–1:00 p.m., Center for Recreation and Sports, Gym
**This is a mandatory event for all first-year students. Bring your Adelphi ID to swipe in.
Adelphi University officially welcomes students of the Class of 2022. This is a time-honored Adelphi tradition during which students are formally welcomed as scholars into the Adelphi Community. Members of Adelphi's Board of Trustees, as well as the University's faculty, process in academic attire, lead the distinguished procession, and then welcome the first-year student class during this ceremonial occasion. Students are also welcomed by current upper-class leaders.
In the past, keynote speakers included eminent alumni, renowned members of the community, as well as national and global leaders. An entering first-year student is also presented with the University's Honor Code on behalf of the new student body. 
Matriculation reflects the ceremonial entrance of the student into the academic community in a similar formal tradition that celebrates those graduating during Commencement.
---
Pantherpalooza
1:00 p.m.–4:00 p.m., Parking Field #5 (Rain Location: University Center Ballroom)
Join the fun! Come visit our campus organizations, enjoy music, inflatables, a BBQ, vendors, novelty foods, a photo booth and much more. Enjoy our do it yourself spirit items to take with you to the pep rally. 
---
Campus Recreation Facilities
1:00 p.m.–9:00 p.m. (Pool Closed)
Access includes the Fitness Center, racquet courts, indoor track, and tennis courts. 
---
Catholic Mass
3:00 p.m.–4:00 p.m., Interfaith Chapel, University Center, Room 306
Officiated by Fr. Jeff Yildirmaz, Catholic Chaplain
A celebration of the highest and most central part of Catholic life as we gather at the table of the Lord to rest and prepare for the upcoming year.
---
Protestant Service
4:00 p.m.–5:00 p.m., Interfaith Chapel, University Center, Room 306
Officiated by Rev. Michael Delaney, Protestant Chaplain
An Ecumenical Christian Service of Welcome, Scripture, Prayer and Praise.
---
Yoga on the Lawn
4:00 p.m., Flagpole Lawn, Rain location: Exercise Studio, 3rd Floor of Woodruff Hall
Mats, Music and Zen provided.
---
Pep Rally
5:00 p.m.–6:00 p.m., Motamed Field
Let's Go Panthers! We will get ready for the fall 2018 season by meeting our athletic teams and showing our panther pride.
---
Welcome Back Bash
7:00 p.m.–9:00 p.m., Chapman, Eddy, Linen, Residence Halls A & B
Join Residential Life and Housing staff for some block party fun! Get to know another part of campus life with a walk of entertainment that includes Gladiator Jousting, Italian ices, Airbrush Tattoos, custom Adelphi Photobooth, and much more!  All Residents and commuters are welcome.
---
Fireworks Show
9:00 p.m., Waldorf School, adjacent to Adelphi University, enter from Cambridge Ave
Join us as we end Welcome Weekend with a fireworks show to kick off an amazing semester!
Want to see more?
Visit these sites for more info on Fall events and club info.