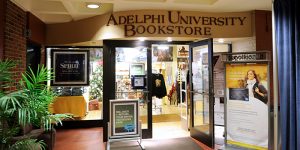 The campus bookstore is located on the lower level of the Ruth S. Harley University Center. It sells all required and recommended textbooks, as well as school and office supplies.
You can access your direct links to your required and recommended textbooks after you log in eCampus with your Adelphi username and password. On the My eCampus homepage look under Enrolled Courses for a link to access your textbook listing. Digital versions and rental books are available for most textbooks. Price matching is also available through the bookstore.
The bookstore buys back texts from students at the end of each semester.
The store also carries graduation attire, diploma frames, nursing student supplies, school spirit clothing and gifts, reference books, national bestseller trade books, candy, cards, gift bags, backpacks and health and beauty products.