CABLE TV
Cable television service is provided in Adelphi's residence halls by Campus TeleVideo (CTV). Standard and HD channels are available.
» See the full cable TV channel listing
» See the Campus TeleVideo FAQs
HBO GO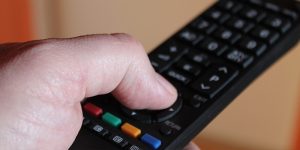 Adelphi University residential students can get instant, streaming access to over 2,000 shows and hit movies.
To start watching:
Visit HBOGO.com or download the HBO GO app
Click sign in to select "Adelphi University" from the drop-down menu
Follow the prompts and start watching
Supported Devices:
Mobile: Download the HBO GO app on your iOS or android phone or tablet. Sign in using the same steps outlined above and try playing a video.
Connected TV devices: PS3, PS4, XBOXONE, XBOX 360, Samsung SmartTV, Amazon FireTV, Roku, or AppleTV. Please note that you must be on the Adelphi University campus wireless to use these devices. They cannot be used off-campus.